-2022-
I am posing after mounting mm-sized Ryugu particles in an anaerobic chamber at the SLAC National Accelerator Facility. Subsequently, we hunted for organosulfurs (organic materials containing sulfur) in the particles.
—–
Graduate students, Elliot and Chanel giving talks on their research at the team meeting on 28th October.
—–
Lucas presented our work on organic inclusions in salt minerals at the Division of Planetary Science (DPS) 2022 meeting in Ontario, Canada. He received a travel award to attend the meeting in-person.
—–
Asteroid Ryugu particles captured by the Japanese space agency reached my lab at Arizona State University in Aug 2022. In the picture (L->R), Jonas, Lucas, me and Elliot (L->R), were able to join me in opening the case of Ryugu particles and compare them to asteroid Itokawa particles (An Itokawa particle in the background screen).
—–
Two students in my team defended their theses. Zeb successfully defended his PhD thesis on 5th April (see picture below). His thesis title is: Secondary Ion Mass Spectrometry Analysis of Lithium-Content and Isotopic Compositions in Kerogen.
Tarisa successfully defended her Masters thesis on 26th May. Her thesis title is: Phosphorus Delivery to Planets via Asteroidal Dust.
—–
Tom, Jonas, and Lucas presenting at the NASA/AZ Space Grant Symposium in Tucson AZ on 22nd April. Jonas presented on thermal modeling of Itokawa-like S-type asteroids, Tom on identifying organosulfurs in carbonaceous chondrite meteorites, and Lucas on characterization of salts considered analogs to Ceres regolith evaporites.
—–
The team visited the NanoSIMS room, after a short talk on the instrumentation and applications.
—–
Team meetings with members giving talks as well data acquisition in the EPMA and IMS 6f labs!
-2021-
A press conference was held on 5th October at the AAS's 2021 DPS virtual conference on research led by me and Victoria on a rare micrometeorite that may have originated from a Ceres-like ultra-hydrous asteroid.
—–
I wrote a short article on the new peer-reviewed paper in the Astrophysical Journal on 3D core-collapse supernova models and stardust for the Elements magazine (Section CosmoElements). Check it out:
—–
We welcome several students, Jacob, Siena, Caitlin, Donovan and Tarisa, to my lab this Fall. Check out their profiles on the CIA personnel page.
—-
Ziliang's paper about hydration of silicate minerals through the implantation-diffusion process in the proto-solar nebula is out today in The Astrophysical Journal!!
https://iopscience.iop.org/article/10.3847/1538-4357/abcd41
—-
Ethan, Jack and Victoria graduated this May! Here are some really nice stories about them, including some pictures: (1) https://news.asu.edu/20210422-asu-graduate-discovers-her-own-degree-path-through-double-majors (2) https://news.asu.edu/20210420-second-generation-graduate-inspired-others-succeed.
—–
Jack's first manuscript in The Astrophysical Journal is finally out! Kudos to him for his hard work and excellent analysis of novel 3-D supernova models.
https://iopscience.iop.org/article/10.3847/1538-4357/abcd41
—–
I am a speaker at the Planetfest 21 -Beyond Mars: Exploring other worlds on 13th Feb. Sign up here: https://www.planetary.org/planetfest21
—–
Lucas received a scholarship from the Western Alliance to Expand Student Opportunities (WAESO) Louis Stokes Alliance for Minority Participation. The project is a comprehensive, concerted, sequenced effort that uses NSF funding for historically underrepresented minority undergraduate student activities. He will investigate biocritical elements such as carbon and phosphorus in carbonate salts, to aid in the planning of sample return missions from Ceres.
-2020-
NASA selects several science teams for astrobiology ICAR research including faculty from Arizona State University and University of Arizona. The latter proposal was led by Dr. Daniel Apai from University of Arizona and is titled "Alien Earths: Which Nearby Planetary Systems Are Likely to Host Habitable Planets and Life?". It includes my group's work on water in asteroid samples and meteorites.
https://asunow.asu.edu/20201109-nasa-selects-asu-science-teams-astrobiology-research
—-
Samples from asteroid Bennu were collected and will be on their way back to Earth. I was featured in the PBS NOVA documentary "Touching the Asteroid" directed by Terri Randall. https://www.youtube.com/watch?v=qp6ITjOa5jE
—–
A fresh meteorite fall Aguas Zarcas is in the news! Josh Sokol, who was visiting journalism fellow in fall 2019, recently published this story in Science on the Aguas Zarcas meteorite fall and featuring Prof. Laurence Garvie and me.
https://www.sciencemag.org/news/2020/08/unusual-meteorite-more-valuable-gold-may-hold-building-blocks-life
—–
The special issue in the Meteoritics and Planetary Science Journal for my adviser Christine Floss is online:
https://onlinelibrary.wiley.com/doi/full/10.1111/maps.13489
https://mcss.wustl.edu/news/alumni-dedicate-special-journal-issue-late-professor
—–
We welcome several undergraduate students, Lucas, Kathleen, Sonakshi, Jonas, and Mathew to my lab this Fall. Check out their profiles on the CIA personnel page.
—–
ASU researchers discuss how classical novae are the galactic producers of lithium. Read about this in the article titled "Carbon-oxygen classical novae are galactic 7Li producers as well as potential supernova Ia progenitors" published in The Astrophysical Journal (https://bit.ly/2NE1I8N). Check out the non-technical description of the paper on ASUNOW: https://usenate.asu.edu/class-stellar-explosions-found-be-galactic-producers-lithium.
The other news sources that highlighted the paper are:
https://www.nasa.gov/feature/lithium-comes-from-exploding-stars
https://research.umn.edu/inquiry/post/underappreciated-stars-lay-claim-our-cosmic-ancestry
https://www.energy.gov/science/office-science
https://www.sciencedaily.com/releases/2020/06/200601144823.htm
https://www.syfy.com/syfywire/got-lithium-thank-a-long-gone-explodey-white-dwarf
https://www.forbes.com/sites/startswithabang/2020/06/03/lithium-mystery-solved-its-exploding-stars-not-the-big-bang-or-cosmic-rays/#2146ce9f4118
http://spaceref.com/astronomy/class-of-stellar-explosions-found-to-be-galactic-producers-of-lithium.html
https://www.techexplorist.com/classical-novae-responsible-most-lithium-galaxy/32737/
https://science.slashdot.org/story/20/06/02/0412245/class-of-stellar-explosions-found-to-be-galactic-producers-of-lithium
https://eurekalert.org/pub_releases/2020-06/asu-cos060120.php
—–
Ethan won a prestigious Ronald Greeley Planetary Research Fellowship in the School of Earth and Space Exploration, along with a prize at the virtual research symposium organized by the Physics Department at ASU. Well-deserved and way to go, Ethan!
—–
At the (cancelled) Lunar and Planetary Science Conference, I was going to talk at the SPECIAL SESSION: 50 Years of Planetary Research in Antarctica: Meteorites, Morphology, and Missions about a unique micrometeorite TAM19-B. TAM19B-7 is one of the largest unmelted, fine-grained micrometeorite discovered by my collaborator Dr. Martin Suttle. It was recovered from loose sediment traps within the Transantarctic Mountains (TAM), Antarctica. New Scientist published a short article on it:
Tiny meteorite found in Antarctica came from an unknown asteroid _ New Scientist
—–
My article on Small Bodies in the Planetary Report by the Planetary Society is online now: https://www.planetary.org/blogs/guest-blogs/2020/the-next-10-years.html
—–
Victoria was featured on ASU Now as a stellar SESE undergrad to highlight in newsletters and e-mail campaigns to future students: https://asunow.asu.edu/20200214-double-major-victoria-froh-designs-her-own-path
-2019-
—–
A group photo taken during one of our weekly SIMS meetings this semester.
—–
I traveled to Chicago for the 2019 Presolar Grain Workshop, organized by colleagues at University of Chicago and the Field Musuem. The group picture shows cosmochemists who are trying to understand the inner workings of stars by studying tiny dust grains present in meteorites.
—–
We welcomed Timothy Hahn (Postdoctoral Scholar) and Brendan Chapman (Brendan Chapman) to my lab this Fall. Check out their profiles on the CIA personnel page.
---
A visit to the pretty campus of Mount Holyoke College, MA to attend the Gordon Research Conference – Origins of Solar Systems.
—–
ASU researchers find water in samples from asteroid Itokawa. Read about this in the article titled "New clues to ancient water on Itokawa" published today in Science Advances (https://bit.ly/2NE1I8N). Check out the non-technical description of the paper on ASUNOW:
https://asunow.asu.edu/20190501-discoveries-asu-researchers-find-water-in-asteroid-itokawa-samples
The other news sources that highlighted the paper are:
KJZZ/NPR: https://science.kjzz.org/content/919776/asteroid-sample-helps-settle-which-scientific-theories-hold-water
EOS: https://eos.org/articles/first-analysis-of-asteroid-water-reveals-earth-like-makeup
Science News: https://www.sciencenews.org/article/water-found-dust-itokawa-asteroid-thought-be-bone-dry
The Conversation: https://theconversation.com/asteroid-dust-brought-back-to-earth-may-explain-where-our-water-came-from-with-hydrogen-clues-116260
CNN: https://www.cnn.com/2019/05/01/world/asteroid-itokawa-samples-water-scn/index.html
Science Alert: https://www.sciencealert.com/asteroids-could-have-supplied-up-to-half-of-all-the-water-in-earth-s-oceans
Newsweek: https://www.newsweek.com/itokawa-water-asteroid-samples-origin-earths-oceans-1411490.   (with comments from NAU)
Newscientist: https://www.newscientist.com/article/2201259-surprisingly-wet-asteroid-dust-could-spark-a-rethink-of-earths-water/?utm_campaign=RSS%7CNSNS&utm_source=NSNS&utm_medium=RSS&utm_content=home
London Times: https://www.thetimes.co.uk/article/water-delivered-to-earth-by-asteroid-7gb8qhgv2
Space: https://www.space.com/water-found-in-asteroid-itokawa-samples.html
Indian Express: https://indianexpress.com/article/technology/science/water-found-in-samples-from-asteroid-itokawa-5708640/
MENAFN: https://menafn.com/1098464223/Asteroid-dust-brought-back-to-Earth-may-explain-where-our-water-came-from-with-hydrogen-clues
Inverse: https://www.inverse.com/article/55413-itokawa-hayabusa-asteroid-sample-earth-water
Yahoo: https://uk.news.yahoo.com/did-earth-water-asteroid-sample-180457986.html. (favorite, by Monica Grady)
CNS: https://www.courthousenews.com/researchers-find-water-in-asteroid-samples/
Eurekalert: https://www.eurekalert.org/pub_releases/2019-05/asu-arf042519.php
Dailymail: https://www.dailymail.co.uk/sciencetech/article-6981979/amp/Hydrogen-discovered-asteroid-dust-suggests-HALF-Earths-water-came-space-rocks.html?__twitter_impression=true.
Futurism: https://futurism.com/japanese-probe-found-surface-water-asteroid/amp/?__twitter_impression=true. (overstated)
Astronomy: https://astronomy.com/news/2019/05/asteroids-delivered-half-of-earths-water-new-sample-suggests
BGR: https://bgr.com/2019/05/01/japan-found-water-on-an-asteroid-and-it-could-reveal-secrets-about-earth/
U.S. News: https://www.usnews.com/news/national-news/articles/2019-05-01/first-look-at-asteroid-water-samples-might-reveal-earths-ocean-history
Science Daily: https://www.sciencedaily.com/releases/2019/05/190501141056.htm
Phys.org: https://phys.org/news/2019-05-samples-asteroid-itokawa.html
The Australian: https://www.theaustralian.com.au/world/the-times/water-may-have-been-delivered-to-earth-by-asteroid/news-story/556b5f150e787584340acdc1a402a5ec
Business Insider India: https://www.businessinsider.in/asteroid-shows-half-of-the-worlds-ocean-came-from-outer-space/articleshow/69139347.cms
Times of Malta: https://www.timesofmalta.com/articles/view/20190502/life-features/asteroid-sample-sheds-light-on-how-earth-got-its-water.708848
Discover magazine: http://blogs.discovermagazine.com/d-brief/2019/05/01/asteroids-delivered-half-of-earths-water-sample/#.XMs2Hi-VYWo
La Vanguardia: https://www.lavanguardia.com/ciencia/20190501/461990946364/agua-asteroide-itokawa.html
The register: https://www.theregister.co.uk/2019/05/03/water_in_asteroid/
New altas: https://newatlas.com/hayabusa-water-asteroid-itokawa/59515/
Brinkwire: http://en.brinkwire.com/science/water-found-in-asteroid-itokawa-suggests-space-rocks-brought-up-to-half-of-earths-oceans/
https://www.elciudadano.cl/ciencia-tecnologia/un-asteroide-podria-ser-la-respuesta-a-como-se-genero-el-agua-en-la-tierra/05/04/
Along the Boards: http://alongtheboards.com/2019/05/05/first-look-at-asteroid-water-samples-might-reveal-earth-s.html
Heise: https://www.heise.de/newsticker/meldung/Hinweis-zur-Erdgeschichte-Ueberraschend-Wasser-auf-Asteroid-Itokawa-gefunden-4412523.html
—–
Barrett, the Honors College at ASU did a student story on Jack on 22nd April 2019. Check it out: https://barretthonors.asu.edu/news-events/news/barrett-sophomore-jack-schultes-research-interest-stars
—–
I gave a talk at the Saguaro Astronomy Club (established in 1977)  on "Presolar Grains – Connecting Laboratory Studies to Stars". See "http://saguaroastro.org/" to learn about the club and its operations.
—–
Ziliang and Jack delivered excellent talks at the 50th Lunar and Planetary Science Conference in Houston. Below is Ziliang talking about water in S-Type asteroids.
—–
What do tiny specks of silicon carbide stardust, found in meteorites and older than the solar system, have in common with pairs of aging stars prone to eruptions? To know the answer to the question, read my paper on "Nova dust in Meteorites" in The Astrophysical Journal (https://bit.ly/2NE1I8N). Check out the non-technical description of the paper on ASUNOW:
https://asunow.asu.edu/20190228-discoveries-silicon-carbide-stardust-meteorites-erupting-stars
The other news sources that highlighted the paper are:
https://phys.org/news/2019-03-silicon-carbide-stardust-meteorites-erupting.html
https://www.sciencedaily.com/releases/2019/02/190228174235.htm
http://spaceref.com/news/viewpr.html?pid=53755
https://www.sciencecodex.com/using-stardust-grains-asu-scientists-build-new-model-nova-eruptions-625183
—–
Three undergraduates with diverse backgrounds and research interests joined my lab this Spring. Check out their profiles on the CIA members page. Welcome Victoria, Ethan, and Tom!
-2018-
Ziliang was invited to attend and give a talk at the Hayabusa 2018 Symposium in Japan. He talked about Itokawa – his talk was titled "Establishing Itokawa's water contribution to Earth". See if you can find him in the group picture below: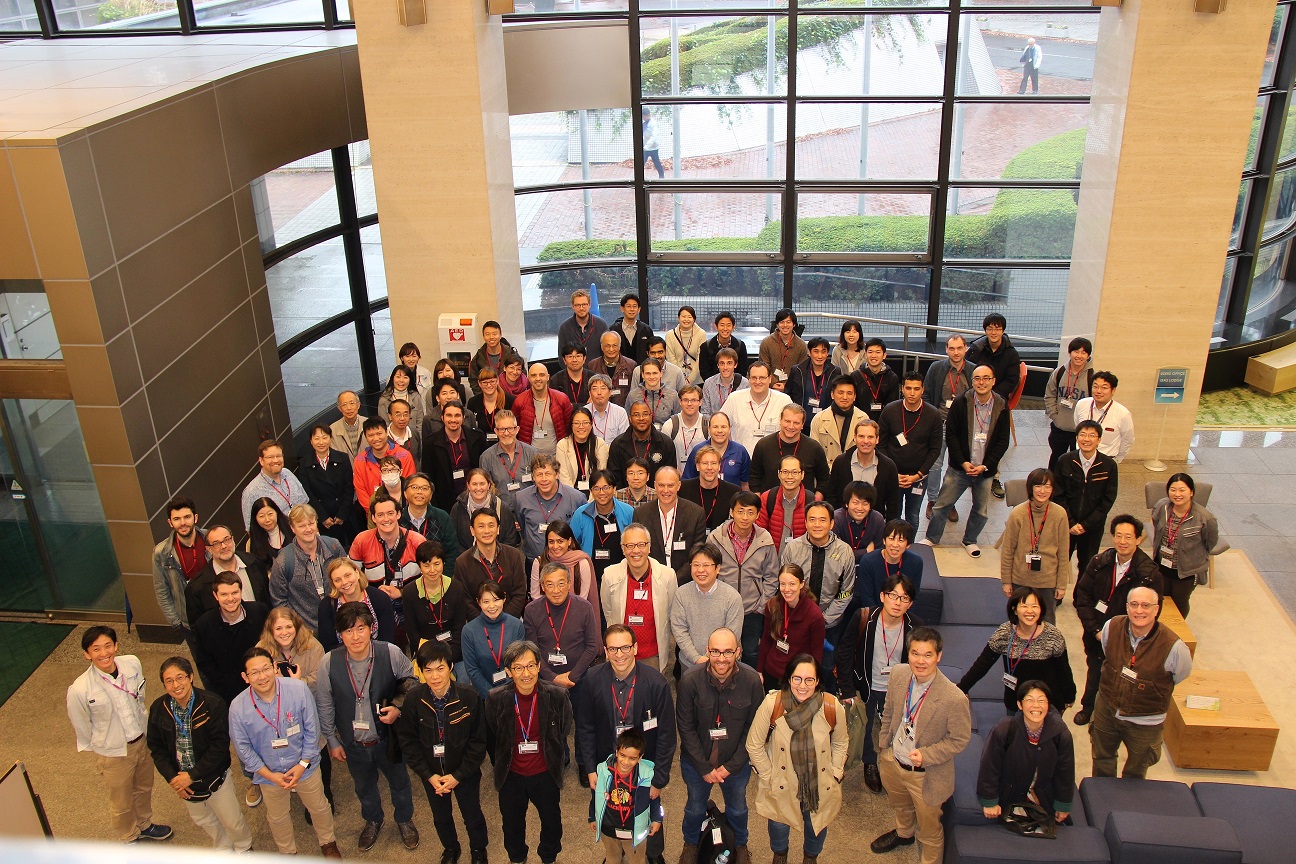 —–
I was invited to talk at the Institute for Geophysics and Planetary Physics Seminar at University of California, Santa Cruz on 16th November 2018. I talked about "How extraterrestrial dust grains constrain the early history of the solar nebula". I enjoyed the trip and was mesmerized by the beautiful Santa Cruz campus with tall redwood trees.
—–
Showcasing the NanoSIMS at the Knowledge Enterprise Development Core symposium on 6th November 2018.
—–
Talk on Stardust at the "Contemporary Women in the Physical Sciences" event on 19th October 2018.
—–
I was selected to attend the Sample Handling Workshop at Johnson Space Center, TX from 15-17th October. Worked with several pieces of equipment. Took tours of Class 10, 100, 1000 clean labs.
—–
The School of Earth and Space Exploration (SESE) at Arizona State University (ASU) invites applications for a Postdoctoral Scholar in Isotope Cosmochemistry and Planetary Science. Applications are invited for one postdoctoral position to work in collaboration with Dr. Maitrayee Bose and Dr. Richard Hervig.
The NSF supported National SIMS Facility at ASU has an opening for a prestigious Postdoctoral Scholar position. The NanoSIMS laboratory, part of the ASU-SIMS facility, is used by a wide range of users in cosmochemistry, geology and geochemistry, microbiology and engineering. We are looking for candidates who aim to develop NanoSIMS methodologies that can advance the analytical capabilities of the instrument. The postdoc can work with Drs. Maitrayee Bose and Richard Hervig on a variety of NanoSIMS applications. The other responsibilities of the candidate will include helping users perform analyses of planetary, volcanic samples or biological samples. The candidate is expected to assist in routine maintenance and repair of the electronic, vacuum and software components with the help of Cameca service engineers. Early expressions of interest and inquiries can be sent directly to mbose2@asu.edu.
The initial appointment is for one year with subsequent annual renewal for up to two additional years contingent upon satisfactory performance, the needs of the university, and availability of resources. The start date is 15th January 2019 and is negotiable. This position comes with a competitive salary and a full health insurance coverage.
Minimum qualifications include a Ph.D. in Physics, Chemistry, or Geology by the start date. Experience in Secondary Ion Mass Spectrometry (NanoSIMS, xf series, or 1270 series) is mandatory. Candidates should possess excellent communication, organizational and interpersonal skills. Desired qualifications include a background in isotopic analysis of terrestrial and planetary materials using NanoSIMS. Candidates must be within five years from receipt of the doctoral degree.
To apply, please submit a single PDF document to mbose2@asu.edu incorporating the following:
1. A cover letter that states why we should hire you and the research problem you would like to work on during the 3-year period.
2. Please ask 3 references to email their letters to mbose2@asu.edu.
3. A curriculum vitae with a publication list.
Complete applications will be reviewed on 30th November and will continue until the position is filled. A background check is required for employment. Postdoctoral benefits can be found at: https://cfo.asu.edu/postdoctoral-scholars
—–
Jasmine Garani will become a member of CIA from August 2018. She joins SESE with a bachelor's degree in physics and astronomy from Stony Brook University. During her undergrad, she analyzed images from the Keck Telescope and NIRC2 instrument in Hawaii to identify brown dwarfs that potentially harbor exoplanets. She will study stardust and volatiles in meteorites for her graduate research. Welcome Jasmine!
—–
Our cesium source patent is accepted and can be viewed online: https://patents.google.com/patent/US9941089B2/en
——
My PhD adviser and a dear friend, Christine Floss died unexpectedly on 19th April. I am deeply saddened by her loss. The cosmochemistry community will always remember her scientific accomplishments (https://bit.ly/2HyduBW). A personal tribute to this wonderful human being can be found here: https://bit.ly/2HxnDdZ.
——
Jack Schlute became a member of CIA in March 2018. His research will focus on supernova modeling of presolar grains.
—–
Members of CIA had several presentations at the Lunar and Planetary Science Conference 2018. Ziliang Jin presented an excellent talk about water on Itokawa resulting in a lively discussion. See snapshots of tweets by microbloggers who highlighted the results. I presented two posters, one on diffusion dating of presolar grains and the other on identifying thiols (-SH) in situ of a carbonaceous chondrite. The former poster (https://www.hou.usra.edu/meetings/lpsc2018/eposter/1524.pdf) received considerable attention from the community.
—–
Talk at the First Life Sciences Cafe Seminar Series: https://asuevents.asu.edu/content/life-sciences-caf%C3%A9-new-faculty-seminars
—–
Pictures from the 10th ASU SIMS workshop from 3-5 January 2018. Drs. Richard Hervig and Zan Peeters giving demonstrations on the ims 6f and NanoSIMS 50L.
-2017-
Featured in ASU Now: https://asunow.asu.edu/20171020-drawing-blood-stone
—–
Dr. Zan Peeters joined my lab in SESE as an Assistant Research Scientist and NanoSIMS lab manager in October 2017.
Dr. Ziliang Jin joined my lab in SESE as a Postdoctoral Researcher in September 2017. His research work will focus on the study of volatile elements in anhydrous minerals from the asteroid Itokawa and other chondritic samples using the NanoSIMS 50L. 
—–
Article in UC Davis news: https://www.ucdavis.edu/news/volcanic-crystals-give-new-view-magma
National Science Foundation news release: https://www.nsf.gov/news/news_summ.jsp?cntn_id=242162&org=NSF&from=news
Featured in ASU Now: https://asunow.asu.edu/20170615-discoveries-asu-scientists-tracking-buildup-volcanic-eruptions
Our paper on "Rapid cooling and cold storage in a silicic magma reservoir recorded in
individual crystals" was published in Science in June 2017: http://science.sciencemag.org/content/356/6343/1154
—–
My paper on sulfur speciation in carbonaceous chondritic meteorites (Meteoritics and Planetary Science) was published in Feb 2017: http://onlinelibrary.wiley.com/doi/10.1111/maps.12811/full
—–
Physicist, wine-maker, and friend Chris Loxton presented a talk titled "The science and art of wine-making" at the SESE colloquium on 11th January.
—–
Hayabusa I, a JAXA mission to an asteroid Itokawa, was the first successful sample return mission from an Ordinary chondrite. Grains collected during this mission arrived Arizona State University for isotopic analysis on 9th January.
-2016-
SESE Colloquium titled 'Exploring Solar System History through Isotopic Analysis of Extraterrestrial Dust' on 16th November, 2016
Invited talk titled 'Exploring Solar System History through Isotopic Analysis of Meteorites' at Lunar Planetary Laboratory in University of Arizona on 14th June, 2016
Featured in the EOS website: http://eos-nexus.org/2016/06/08/meteorites-time-capsules-of-the-solar-system/
Featured in ASU Now: https://asunow.asu.edu/20160106-asu-scientists-discover-how-blue-and-green-clays-kill-bacteria
ASU scientists discover how blue and green clays kill bacteria: http://phys.org/news/2016-01-scientists-blue-green-clays-bacteria.html
-2015-
Fall 2015 newsletter @ School of Molecular Sciences (Arizona State University): https://sms.asu.edu/newsletter/Fall2015/outreach.asp
—–
ExMASS research program announces student winners: http://sservi.nasa.gov/articles/exmass-research-program-announces-student-winners/
Research by Bellaire High-school students (the kids I mentored!) will be displayed at the 2015 Exploration Science Forum at NASA Ames Research Center: http://www.lpi.usra.edu/exploration/education/hsResearch/presentations/2014_2015/index.shtml#posters
—–
ASU Secondary Ion Mass Spectrometry facility receives million-dollar grant from the national Science Foundation: http://sese.asu.edu/node/2018
ASU SIMS Facility shrinks geochemical analysis into the nanometer regime: http://meteorites.asu.edu/news/nanosims
—–
Proposal to Nexus for Exoplanet System Science (NExSS) by University of Arizona (Co-I Bose) funded: http://eos-nexus.org/
-2014-
Invited Astrobiology Coffee Hour Talk on 29th October 2014 in Arizona State University
Invited talk titled `Presolar Minerals and Organics: Lessons Learnt' at Lunar Planetary Laboratory in University of Arizona on 2nd September, 2014: http://www.lpl.arizona.edu/calendar/colloquia
Invited talk titled `Physical Relics of our Solar System: Presolar Grains' at Indian Institute of Science Education and Research, Pune, India on 6th March, 2014:
-2012-
ASU Annual SIMS Workshop: http://sese.asu.edu/news/asu-sims-experts-participate-workshop
Invited talk titled `Investigation of Stardust with the NanoSIMS at ASU' at the 2nd NanoSIMS Users Meeting in Lehrstuhl Freising Bodenkunde, Germany on 15th October, 2012
Invited talk titled `Carbonaceous Material in Primitive Chondrites' at the Astrobiology coffee hour seminar series in Arizona State University on 14th March, 2012
Invited talk titled `Silicate Stardust in Primitive Chondrites' at the NASA Johnson Space Center, Houston on 4th January, 2012
-2011-
Invited talk titled `Stardust in Primitive Meteorites' at the Institute of Meteoritics, Albuquerque on 9th February, 2011
-2010-
Invited talk titled `NanoSIMS 50 at Washington University, St. Louis' for the Course (L19-544) on Methods of Geochemistry on 18th November, 2010
Invited talk titled `Presolar Silicate and Oxide Grains in Meteorites' at the Chicago Center for Cosmochemistry, Chicago on 4th November, 2010
-2007-
First characterization of presolar grains using Auger Nanoprobe: